Half moon bay crab buy from fishing boat
Ahoy!
F/V Rosella sells seasonal live local salmon and Dungeness crab off the boat!

Check out the weather in Half Moon Bay by clicking here.
Barry Day operates F/V Rosella. An old lady-a classic wooden fishing boat designed by H.C. Hanson that has been well loved for over half a century.  Check out how commercial crabbers do it here: commercial crabbing video link. He fish year-round: salmon from early summer and tuna into the fall. I take great pride in fishing locally and selling off the dock to customers that appreciate the quality seafood. Customers come from the areas surrounding Half Moon Bay to buy directly from Half Moon Fishing boats.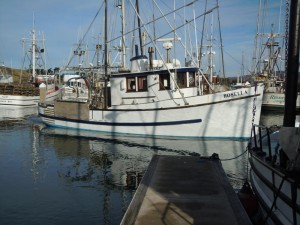 Kiwi Barry and his former seafaring gal, the Fjord Queen II, were featured in many Half Moon Bay Review articles, including coverage of her final voyage. In chronological order:
Rosella is shaped and smells like a fish. I know that sounds silly to landlubbers — but it's true. The shape and material of the hull and the sound the motor makes in the water can scare the fish off. My old wooden boat is very fish friendly. Click here to locate her at Pillar Harbor–slip G-6.